If work-life balance is a priority, the work from home (WFH) or remote work lifestyle might be a perfect fit.
Work is a large part of our lives for many of us, seeing as we spend more time at work than at any other place during the day. So, the ultimate goal is to find work that fulfills us and allows for personal freedom while still providing enough income to pay the bills. These days there are plenty of opportunities out there for people who want to work from home. However, some don't know where to begin or how to stand out from the crowd.
The Expectation of WFH of Hybrid Work Models
55% of surveyed workers say they prefer working remotely at least three days a week
The health and safety regulations caused by the pandemic forced nearly every non-essential employee into a WFH or Hybrid work model. Before this pandemic hit, WFH seemed like a far-away dream, and many companies had a 9-5 structure where a commute to the office was mandatory. With forced lockdowns and stay-at-home orders, we soon learned that working from home is possible for many jobs.
Employers might assume that WFH would lead to less engaged employees and more complacent than their co-located counterparts; however, research shows otherwise. The reality is that employees can get work done from anywhere; it just takes a supportive management structure.
WFH and Hybrid work models are becoming increasingly popular due to the recent pandemic. 👨‍💻 Check out the expectations and realities of these work models: #FOW

Click to Tweet
The Reality of WFH Models
Though some employers may have feared that WFH would tank productivity, research has shown the opposite to be true. Work productivity can be increased by up to 20% with the right work from home or hybrid work model. Finding a structure that works for you and your team is crucial as we continue to adapt to this new method of work.
1 in 4 of us could work remotely
The truth is that WFH and hybrid work models aren't going anywhere. Experts say that up to 25% of the workforce in advanced economies could work from home for some portion of their week. While we've quickly adapted to working from home and hybrid work models, it's genuinely NOT for everyone. It's important to identify whether WFH is an option that works well for you before you jump in.
What Makes An Ideal Remote Work Employee
Successful remote workers share a few qualities that help them manage their own workflows. While these qualities are not the only ones a productive remote worker needs, it is helpful to identify whether you and your team possess the skills and characteristics needed to succeed at a remote work model.
They are a self-starter. If you are reliant on a manager peeking over your shoulder to remain accountable or someone else holding your feet to the fire to meet that deadline, chances are, you won't be the best work-from-home candidate. A strong remote employee takes the initiative and accomplishes their tasks on their own accord.
They are an expert at prioritizing work. Working remotely requires a lot of self-discipline. Suppose you can't prioritize work and are easily distracted. In that case, you won't be able to work from home for very long without burning out or your productivity suffering. Excellent remote workers need to sift through the clutter and focus on the most important tasks.
They are problem solvers. People that want to work from home must have the ability to find solutions to their work problems. As forward thinkers, remote workers need to think quickly on their feet without relying on others for support.
They are organized. Organization and time management are essential for remote work success. Scheduling, note-taking,

quiet space

, and online identity partitioning (if more than one person uses your computer) are all ways of being organized that are crucial for the full-time remote worker.
They collaborate well with others. Working remotely requires you to work well with others and collaborate on tasks in unique ways. The ideal work from home employees will need to adapt as organizations continue to change their processes as time goes on and be flexible with changes.
They are highly communicative. One thing that we've learned from working remotely is that it often requires

over communication

. Checking time zones, confirming meeting dates and times, managing interdependent deadlines, making sure someone has seen a crucial piece of information, and double-checking everything are all part and parcel of working from home.
They can work independently. Working from home means working alone and online for most of the day, which can be hard. Many find they miss the water cooler chat or begin to fuss with chores at home instead of working on a project they have to do alone. Strong remote workers need to keep focused on their tasks and stay motivated.
They are process-driven. Amid the chaos, many organizations doubled down on process management to invest in their infrastructure while working remotely. To be a successful remote worker, you need to be willing to follow the company processes so that all employees are in alignment.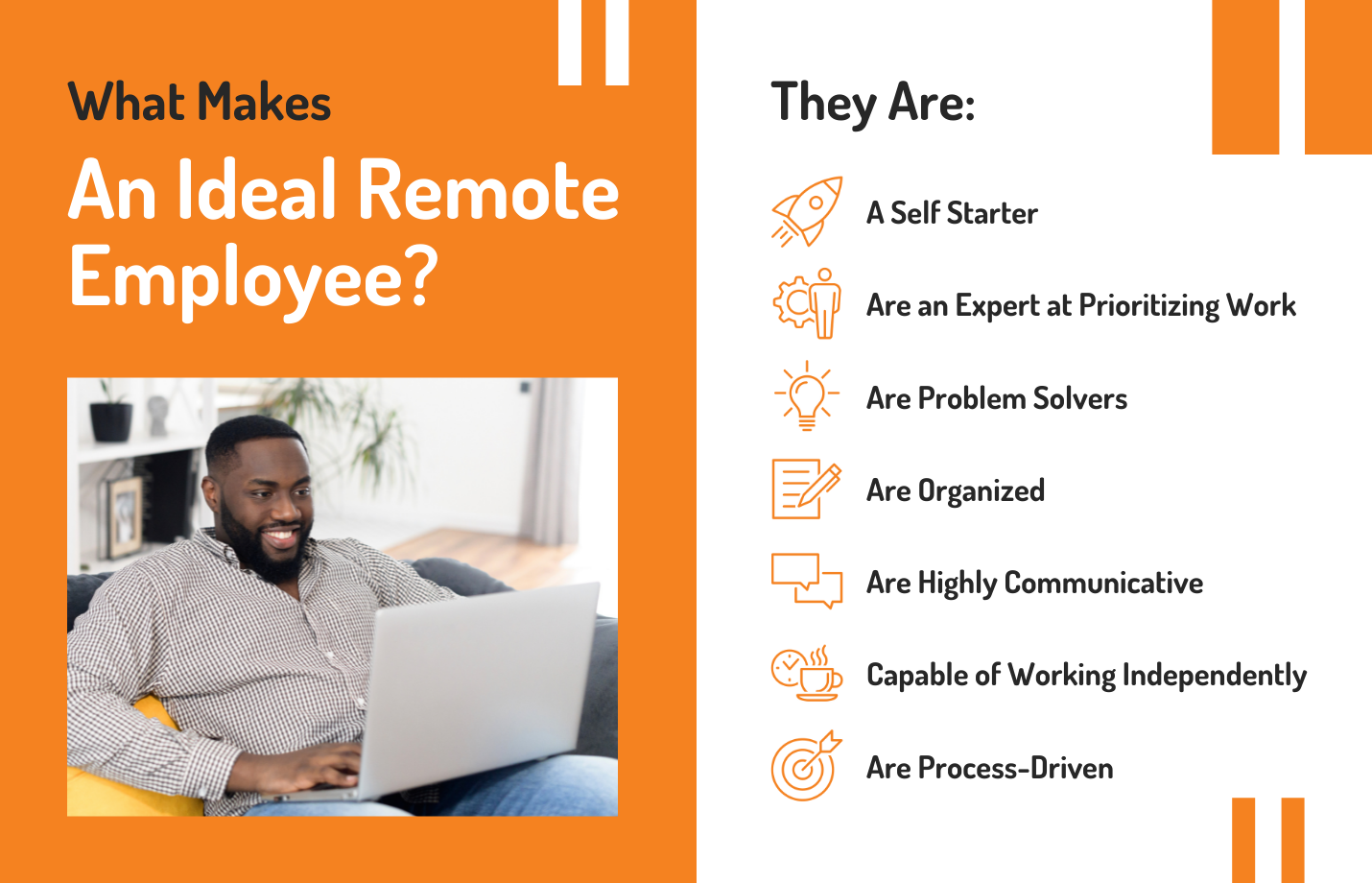 The Work-From-Home Gray Area
There are more struggles to working from home than just getting your projects done on time. Many remote workers have felt increased effects of loneliness without having an office to go to. Additionally, employees have had to navigate troubles like family interruptions and spotty Wi-Fi connections throughout the workday. Put simply, the best remote worker can draw on all the above skills while maintaining the cool-headed flexibility needed in a hectic workspace.
Employees Want Remote or Hybrid Work
Modern job seekers and current employees have expressed their hope for a long-term hybrid strategy. While they are willing to return to work, they want to do so on their terms — this includes options like fully remote work, hybrid work models, coworking spaces, or remote offices. By talking with employers, employees can create a strategy that benefits both parties, whether this is working in an office partially during the week or staying at home full time.
Small to Medium-Sized Companies Want Remote Work
Many small and mid-sized companies were forced out of their commercial real estate and leases at the onset of the pandemic. Without this monthly rent, many businesses found ways to cut costs, and lots of these organizations have no intention of going back to their old ways. Experts are seeing a trend of small businesses embracing a WFH policy for their employees, as it allows for more flexibility in work schedules and saves their bottom line.
Larger Companies Want Hybrid or In-Office Work
On the other end of the spectrum, for employees who crave the freedom of a hybrid model and the square footage with that sweet, sweet fluorescent lighting, a larger company is a better bet. Studies show that larger companies and corporations are gearing up to return to the office. While this might take form in a hybrid model that allows for some remote work, most organizations have a desire to return to some sense of pre-pandemic normalcy.
Hybrid Work from Home Model Caveats
Whether you opt for a fully remote role or a hybrid model, there are a few things that must be considered:
Certain roles can work remotely

, and some just can't. At a fundamental level, some industries require in-person work. Hybrid and remote work models are not for everyone, and it is important to identify if remote work would benefit you and the rest of your team.
Employees that were sent to work from home likely want to stay there. Existing employees that moved to a WFH model are likely happy with their current setup. While employers may allow these employees to stay at home, new hires may not have the same luxuries.
Employees need to be flexible. Finding a solution that works for you and your employer means you'll need to cooperate and collaborate on the structure. It's a give-and-take situation, and you need to be willing to adapt your wants to fit the company's needs.
How Can I Be an Ideal Remote Work Employee?
Employees and organizations have looked to leadership for assistance with implementing remote work strategies. But, it takes effort by all parties to ensure that your processes and business practices don't falter as you embrace remote work. Some things employees and managers alike can do to set a strong example for remote work includes:
Double-check everything. Make sure that the work you present is the best visualization of your efforts. Check and then double-check every memo, note, and a project that you send out. Become known as the person who consistently provides perfect work.
Build out a best practice library. Did you create a new process or have a new idea on how to tackle work? Share that information with the rest of your team! By taking notes on your findings and keeping documentation of new ideas, you can increase your office standards and better train new hires on your business functions.
Remember to over-communicate. Remote work is challenging since we cannot stop by a coworker's desk to ask a question or pop into their office to ask for advice. Plus, with nearly all communication now taking place virtually, tone and intent can often be misinterpreted. Workplace communication needs to remain a priority even for teams who are working remotely full time.
Have you tried WFH or hybrid work models to attract new talent? Check out employees expectations of new future of work here: #FOW

Click to Tweet
Working from Home and Hybrid Models In the Future
Working from home and hybrid models are here to stay. How much you choose to embrace these changes to the way we do work is entirely up to you. While some people may shy away from remote work and prefer an office, other people welcome the added flexibility and freedoms that come with working from anywhere. The key is finding the method that works best for you and your needs. The Future of Work is here. Navigating the changes to the workforce requires adaptation from even the most successful of companies to survive. Make sure you're one of them.
Hiring can be hard, but we make it easy. Check out the benefits our talent community provides, and how you can utilize these advantages to jumpstart your career.