The market is buoyant, your team is stretched. These are the pleas that can be heard across the land, as recruiting leaders seek to bring on board new recruiting solutions to bridge the gap. But if resources are to be reallocated among recruiting solutions, which should your company be turning to for maximum results?
The sheer array of recruiting solutions has evolved enormously over the last few years, so in this blog, we aim to bring together the various options you may wish to consider. Are there any new hybrids or solutions out there that we've overlooked? Please feel free to add your thoughts in the comments below.
Job Boards - a Recruiting Solution Past Its Sell-By Date?
Down but not out is how we'd describe the job board industry. While this is a recruiting solution that's clearly suffered from the onslaught of newer alternatives, it remains the case that job boards can be highly cost-effective channels for recruiting. Particularly at the lower skilled and blue-collar end of the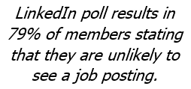 market, there are few options that can bring in candidates who are ready to start work at such a low cost.
For more senior and professional roles, though, be wary of the generalist boards and try niche sites instead. The number of inappropriate candidates who will apply will be a drain on your time - and with generalist boards, that's a problem that can become particularly acute. But keep your finger on the pulse of which job boards still work in your industry and you'll always be in a position that you can activate a flow of additional candidates at very short notice.
Manage your expectations. A poll conducted by LinkedIn of thousands of its members just a few years ago resulted in 79% stating that they are unlikely to see a job posting. When you consider that the bulk of the 21% remaining will not be in the ideal location, won't have all of the qualifications, and may not be an overall fit, you are now dealing with a single-digit percentage of the target market.
Fixed Fee Multi-Posters
Most reading this will be familiar with the concept of multi-posting technologies: recruiting solutions that allow recruiters to post their vacancy out to multiple job boards all at once. But until more recently, these were solutions that allowed recruiters to post vacancies to the job boards with whom they'd entered into contractual arrangements. Plus you'd have to be contracted with the multi-poster too to be able to use them. That's a lot of dollars tied up in advertising routes that may or may not continue to meet your evolving needs.
The newer kid on the block is the fixed fee multi-posting solution. These are companies - that are numerous incidentally - whose existence removes the need for you to either be signed up with a multi-poster or with numerous job boards. Instead, pay a fixed fee to this new type of recruiting solution and they will post your job to a wide range of mainstream and niche job boards without you needing to have purchased directly from either one.
Some will do this for a fixed fee for the selection of job boards agreed. Others will continue to post your job for a fixed fee until the vacancy is filled. Some are actively involved in screening candidates, others leave this to your existing processes or ATS. Perhaps not that revolutionary, but certainly a means of drumming up significant volumes of new applicants without entering into any onerous long-term contracts.
PPC Solutions
The next set of solutions recruiters have embraced can broadly be termed as pay-per-click (PPC) solutions. These entail driving additional candidates to the company's existing careers pages using one of the many pay-per-click advertising solutions out there. This encompasses everything from Indeed to Google advertising and on to the likes of Facebook PPC campaigns. They are again not an end-to-end recruiting solution in their own right but are a tap that can be turned on to drive significant additional candidate interest to the vacancy listings you're already placing on the web.
Employee Referral Programs - The Overlooked Recruiting Solution?
Of all the
recruiting solutions
presented here, arguably the one requiring the most time to implement and achieve initial results. But for forward-thinking companies, that in itself isn't a reason to shun the option altogether - but just to acknowledge that it's not going to be a solution
for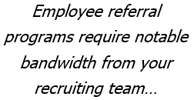 overcoming your immediate recruiting challenges.
Those companies who've embraced employee referral technologies report that they achieve significant buy-in from existing staff. Not surprisingly, since they usually work on the concept of giving sizable success fees to members of staff whenever one of their contacts is hired. Who wouldn't want to be a part of that?!
But the flip side of this is that it's not a cheap recruiting option. The combined costs of the technology itself and then the success fees that become payable to staff result in a cost-per-hire that's not insignificant - all the while requiring notable bandwidth from your recruiting team to actually schedule all the interviews, answer inquiries from employees making the referrals, and see the hiring process through from start to completion.
Candidate Sourcing Solutions
Another option that produces a similar outcome is the candidate sourcing solution. These are the recruiting providers who offer to identify long lists of candidates ("name gen") for your team to then approach and interview. For a fixed or hourly fee they essentially take on the job of sourcing candidates in your market and provide you with the recommended list of candidates you should be pursuing.
Not a total solution if your team is running low on resources, admittedly, but if it's tracking down the right candidates that's the weakness in your current team then this may be a good solution - and can usually be bought on a per-campaign basis.
Automated Sourcing Solutions
If the people element of that last approach makes it sound somewhat expensive, the newest kids on the block are the automated sourcing solutions that have been launching these last couple of years. Plug in your job description for the artificial-intelligence computers to digest - and minutes later you'll be presented with a selection of what these platforms believe to be the best-matching candidates out there.
Again, this leaves you with the resourcing challenge of still being able to approach and interview all the candidates identified, but for some companies taking away the need for this laborious research will ease a bottleneck.
Contract Recruiters
Exactly as they sound, contract recruiters can be brought in to work with your team - onsite or remotely - on a short-term contractual basis. This can serve a number of purposes. First, it can be a compelling way to bring on board additional recruiting resources at the crunch points when you need it most. Secondly, it can allow you to tap into recruiting expertise that you may need for certain one-off specialist assignments, without wanting or needing to have that expertise available to your team on an ongoing basis. But you need to build up a roster of quality contract recruiters to call upon, as not all are going to be of the caliber that you would desire.
Fixed Fee Recruiters
Where contract recruiters will often charge a day rate and a success fee on placements made, a fixed fee recruiter carries a specific cost. They will either charge a fixed retainer fee to work on assignments each month, or a fixed fee for each assignment undertaken. Either way, that makes it a recruiting solution that's easier to budget for and that carries less financial uncertainty as to its ultimate cost. A spin-off benefit is also that it allows recruiters to have more candid conversations with candidates, as they can truthfully state that they don't stand to benefit financially from encouraging a candidate to take a role.
Recruitment Agencies
Otherwise known as contingent recruiters, this is a recruiting solution that's low on risk but high on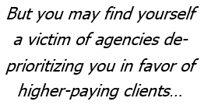 ultimate cost-per-hire. By accepting to work for no ongoing fee, the agency takes on the risk of whether or not a role will be successfully filled. But the flipside of taking on that risk is that the cost-per-hire charged when a placement is made is correspondingly sky high.
A good option if you literally can't secure any new budget unless it's tied to success. But you may find yourself a victim of agencies de-prioritizing you in favor of higher-paying clients, or of strong-arming candidates into accepting a role that may not be in the long-term interests of either the employer or the candidate.
RPOs
To be comprehensive, we include RPOs here (Recruitment Process Outsourcing). Given that this recruiting solution involves outsourcing some or all of your recruitment function to an external provider, it's not an option that can just be turned on and off like a tap. It's also not one that can be implemented either quickly or without buy-in and authorization from the very highest powers-that-be in the company. But if you are continuously finding your team bumping up against recruiting challenges and financial constraints, it may be something that you choose to investigate for the longer term benefit of the company.
Retained Recruiters
Last but not least are headhunters or retained search firms. Historically this has been the option most likely to produce a successful hire, in part owing to the comprehensive nature of the market research and cold-calling work that's undertaken. But the combined cost of a monthly retainer fee and a success fee upon placement have made this an option that's only ever been financially palatable for the most business-critical of senior executive roles. What's more, it's increasingly the case that technological advances have rendered their "exclusive networks" and special relationships with candidates a little less magical than before.
So, What's The Right Choice For You?
Hopefully, this whistle-stop tour has served as a good refresher of all the options available to you in today's market. In the time available we've only been able to scratch the surface in terms of which recruiting solution is right for you. But if you'd like the chance to talk through your options in more depth, feel free to schedule a call with us and we'll be happy to help.
We've also restrained ourselves in listing our firm among these options. Reveal is a non-traditional search firm with hourly, project-based, and contractual delivery models. The right solution for you depends upon a number of factors which we would be happy to explore with you.